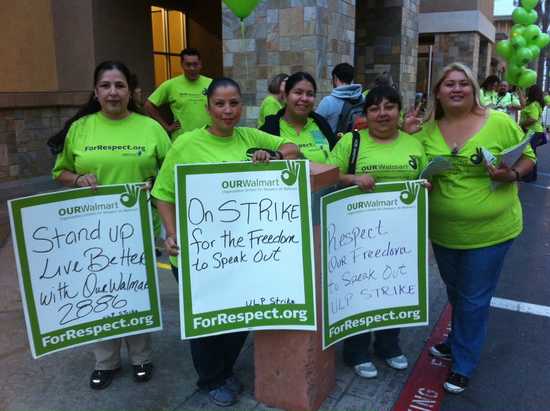 It's the day after the Thanksgiving holiday in the USA, the day they call 'Black Friday'.
It's not an official holiday, but it is a significant day in the American calendar, and traditionally marks the first day of the Christmas shopping season. Shops open early. This year the day will be marked in an unusual fashion by a mass strike (hopefully) of staff ('associates') of the giant supermarket chain Walmart. (The UK's Asda is a subsidiary of Walmart.)
Walmart workers are striking for better pay and treatment at work. It will be wonderful to see this group of low-paid workers fighting back, in a country where the anti-union laws are even more draconian than in the UK.
Read more about OUR Walmart, the
community campaign supporting the Walmart strikers
here
.
Of course, here in Barnet, we are experiencing our own Black Friday. Yesterday, more than 500 Barnet Council workers learned they will either be working for the new boss Capita, or they will be out on their ear, as Capita look to boost their profits by laying off workers in Barnet and employing people on lower wages somewhere else in the country.
Barnet Council's senior officers (top managers) have decided that Capita has put in the best bid to run the Council's New Support and Customer Services Organisation (NSCSO). (They haven't asked residents what they think.)
Barnet's Tory councillors but most especially the Cabinet members who will say yes or no to this contract have just seven days to read through - or have explained to them - what's in the apparently 8,000 pages of the contract document, that has been four years in the making.
Are they going to be on top of their brief? Like hell. In fact, I can guarantee that Barnet's bloggers, members of the Barnet Alliance for Public Services, and Barnet Unison officers probably already know more of what's in that document than Barnet Council leader Richard Cornelius himself. And we
will
hold them to account!
Obviously, it is a hard day for those Barnet Council workers who fear losing their jobs. And those that keep them can expect that their workload could increase and their pay and employment terms be eroded. Capita, after all, have promised to do the work for less than the Council are currently paying, and they still need to show their shareholders a profit.
You do the math (as the Americans say). Most of the proceeds of privatisation come from the lowering of workers' pay and conditions.
Barnet Unison members have taken industrial action against being pushed into worse jobs or no jobs, under the One Barnet outsourcing programme. There are reasons why that industrial campaign only went on so long, reasons too complex to examine here. But I still truly believe that industrial action has a central place in the fight against outsourcing, and to defend jobs and pay, and simply to ensure that people are treated with respect by their bosses.
So, yes, it's Black Friday, but let's take our inspiration from the Walmart strikers across the pond: don't mourn, organise!
+++
Here is Barnet Unison's press release issued on Thursday:



CAPITA WINS - MASSIVE JOB LOSSES FOR BARNET COUNCIL STAFF

Today approximately 520 Barnet Council staff have been told in a series of briefings that Capita is to be their new employer.




From figures released in the presentations today approximately 57% of staff will face redundancy as local jobs are exported to Belfast, Blackburn, Bromley, Carlisle, Darwen, Sheffield, Banstead, Swindon, Southampton.

For the last four years UNISON has warned of the danger of jobs being exported out of Barnet. Leading Councillors and senior officers have either played down this risk or discounted it as irrelevant.

John Burgess, Branch Secretary

said: "It is a dark, dark day in the history of Barnet Council. Staff and residents will remember this date as the day the council carried on marching over the cliff ignoring the stark warnings of residents and other key stakeholders. The implications for our members are awful. I thought the morale of the workforce had already hit rock bottom, this news I believe will drag it down deeper and it will have an impact on other council staff. I also fear for the impact on future quality of services to Barnet residents. I really hope Councillors will think again about the implications of what they are proposing and the risks of ignoring a growing dissenting community voice emerging from a resilient committed community campaign. But, it isn't over yet, there is an alternative way to delivering public services and our campaign is still very alive and focused. Watch this space."

Barnet Council is implementing a policy known as the One Barnet Programme, sometimes referred to as the 'Commissioning Council'. This mass privatisation policy is designed for the Council to divest itself of responsibility to deliver services to its residents.

The first One Barnet project known as New Support Customer Services Organisation (NSCSO) will be for back office services such a Finance, Revenues & Benefits, Estates, IT, HR & Payroll etc, it is estimated to be worth up to £750 million.

It involves approximately 700 council workers. There is a high probability that the winning bidder will not deliver these services from Barnet so there is a high risk of significant redundancies at the moment of transfer.

This contract will be awarded to either Capita or BT at the Barnet Council Cabinet Resources Committee on Thursday 6 December 2012.

The second One Barnet project is known as Development & Regulatory Services (DRS) which includes the following services:

Trading Standards & Licensing, Land Charges, Planning & Development, Building Control & Structures, Environmental Health, Highways Strategy, Highways Network Management, Highways Traffic & Development, Highways Transport & Regeneration, Strategic Planning & Regeneration, Cemeteries & Crematoria.

This contract, worth up to £275 million pounds, will be awarded to Capita Symonds

or EC Harris at the Barnet Council Cabinet Resources Committee on 8 January 2013.

This involves approximately 300 council workers

Both contracts are for ten years with an option to extend for a further five years.





Over the past four years UNISON has published over 40 detailed reports on the Future Shape/EasyCouncil/One Barnet mass privatisation programme.




Our message has remained clear.




Provide a level playing field and follow good practice and include a fully funded in house service improvement model to run alongside the procurement process.




Our proposal - In house model




There are a nnumber of examples of where Councils have followed this approach to good effect. Most recently Edinburgh City Council considered the potential for using private contractors to deliver a wide range of its services. It embarked on separate procurement processes for 3 blocks of services utilising the Competitive Dialogue process in an attempt to obtain the best offers available from the market. At the same time in-house teams were asked to work on service improvement plans or Public Sector Comparators, so that when it came to the award of contract, the Council could be sure that the services it was purchasing would genuinely optimise its use of scarce resources. In the end the Public Sector Comparators proved to be more attractive than any of the external offers and no contracts were awarded.